Dsion offers an alternative to the problems of the current investment model with the Decentralized Decision-Making System and the Public Distributed Ledger, which are the basis of the blockchain. The 'Decentralized Decision-Making System' can monitor or influence a lot of investors to participate in the investment process and make rational decisions. The 'Public Distributed Ledger' can contain reliable fund management information and schedule progress information that is difficult to expect from unlisted companies.
Dsion airdrop is worth up to 100 DSN tokens (~$ 5). There is also a referral program which starts from 5 referrals. Refer 5 friends to earn 300 DSN tokens, 10 friends for 500 DSN tokens, 30 friends for 1,000 DSN tokens, 50 friends for 3,000 DSN tokens and refer 100 friends for 5,000 DSN tokens.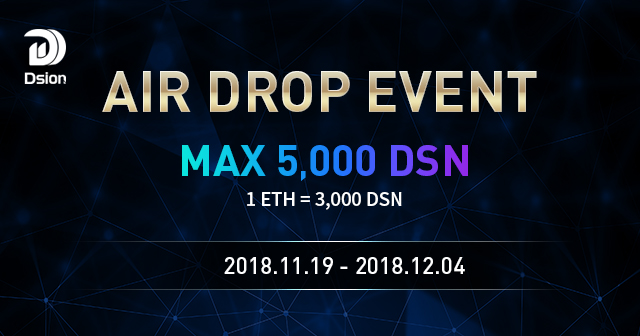 * Step to claim:
1, Go to the Dsion Airdrop form.

2. Create an account on the Dsion website and verify your mail.

3. Join Dsion on Telegram.

4. Go back to the Airdrop form. Click on ''Join the event''

5. Join with your Twitter or Facebook account.

6. Submit your mail, Telegram name and Ethereum address to the Airdrop form.

Share your referral link to earn up to 5,000 DSN tokens.
---
Social required
: Telegram, Facebook, Twitter, Email
Token Symbol
:
DSN
Token Type
:
ERC20 (Ethereum)
Claim Airdrop
:
http://up4vn.com/?hdTkc
---
---