Porto v10.0.0 - Multipurpose Website Template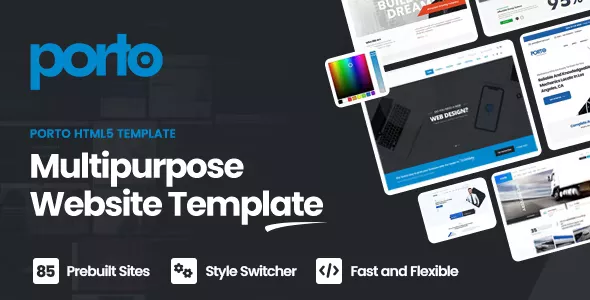 Porto is simply the best choice for your new website. The template is several years among the most popular in the world.
85 Prebuilt Sites
B Bootstrap 5
Skin Builder
Fast and Flexible
The Perfect Template for Beginners or Professionals
Porto is simply a better choice for your new website design. The template is several years among the most popular in the world, being constantly improved and following the trends of design and best practices of code. Your search for the best solution is over, get your own copy and join tens of thousands of happy customers.
The Most Customizable + Solid and Tested Base
Porto has a huge variety of options and features to create your site, it has also a very solid based that is being improved and tested by professional developers since 2013.
Top Performance
Porto has high performance base, all structure are focusing on performance as main point. Porto speed optimization is super fast compared to other templates.
Works Perfectly on Any Device!
We believe you will face lots of traffic from mobile device users not only from desktop or laptop users. Porto is the best solution for you, works fine on any screen resolutions and mobile devices. Try Porto and see how it works!
porto-html-10.0.0.rar
* The referring site you are being redirected to is not controlled by us, we don't host any of the files, this site only contains download links from 3rd party sites by individual users which are freely available on all over the Internet. This material was provided for informational purposes only.
The minimum length of a comment is 30 characters.