Isomorphic v5.6.0 - React Admin Dashboard Template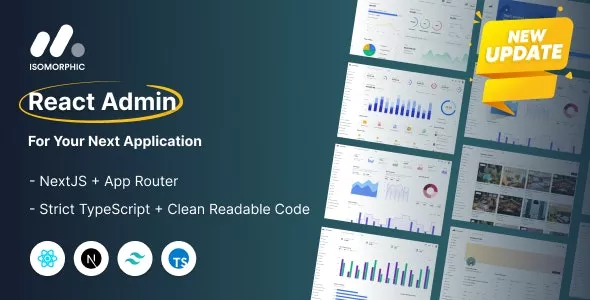 Introducing Isomorphic, the ultimate React-based admin template for crafting cutting-edge web applications. If you're building a web application a strong admin dashboard is required, our react template solution is the key to your success. With Next.js at its core, Isomorphic delivers a responsive design that adapts flawlessly to any device, providing an exceptional experience on admin dashboard platform building.
Isomorphic comes packed with a powerful Analytics Dashboard, complete with charts and graphs, file management that helps you visualize crucial data. It's your go-to admin template for managing an online business efficiently.
With Isomorphic , easy maintenance is a breeze, making it the go-to choice for admin template. The rich and modern technologies used in isomorphic ensures that your admin dashboard is the most advanced and scalable admin dashboard . We used the latest version of bleeding edge technologies such as Next Js Typescript React Tailwind.
Isomorphic is a one-of-a-kind admin dashboard template that not only gives you the dashboard pages , but the other pages needed for your business. Our tailored made five dashboards not only have the exceptional dashboard but also has all the inner pages that are required for your online website. For example, the ecommerce template has the product pages, category pages, cart pages and all the most relevant pages required for an ecommerce business. All the relevant dashboards have the app pages which are required to build your perfect web application . On top of that we have the additional pages designed like sign-in, sign-up, forget password, not found, maintenance, 404 pages and so on all are included with this template.
isomorphic-5.6.0.rar
* The referring site you are being redirected to is not controlled by us, we don't host any of the files, this site only contains download links from 3rd party sites by individual users which are freely available on all over the Internet. This material was provided for informational purposes only.
The minimum length of a comment is 30 characters.