Laradesk v1.1.2 - Helpdesk Ticketing System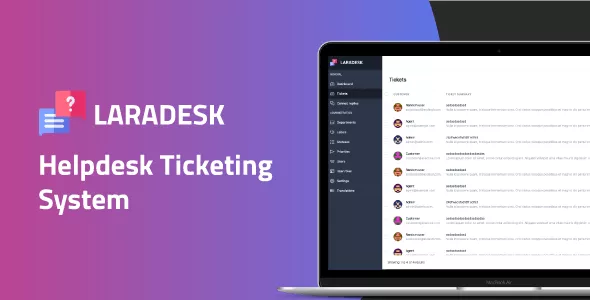 PHP Scripts
Laradesk - Helpdesk Ticketing System Laradesk
is a helpdesk management system. Where customers can send tickets and agents can respond to customers. With a very clean and simple interface where your customers can manage their tickets with just a few clicks and receive notifications to their email for every reply to their tickets. Support for any inquiries or feedback, please submit a request at this link: dacoto.zendesk.com/requests/new and we will try our best to help you.
Features
Create and manage tickets Attach files to tickets
Receive email notifications for each ticket reply
Organize tickets by status
Organize tickets by label
Organize tickets by department
Assign specific users to each department
Assign priority to each ticket
Manage saved responses and add them to ticket responses
Manage users and user roles
Configure settings from visual interface
Translating strings from the visual interface
Demonstration
Requirements
PHP> => 7.3 or PHP> => 8.x
MYSQL =>> 5.7 or MariaDB =>> 10.2.7
Extension BCMath PHP
Extension Ctype PHP
Extension Fileinfo PHP
Extension JSON PHP
Mbstring PHP
Extension OpenSSL PHP
PDO PHP Extension
Tokenizer Extension PHP
XML PHP Extension
Documentation
Guest does not have access to download this file.
Signup Now!
Highlight text and press
Ctrl+Enter
Comments (0)