Cargo Pro v7.6.0 - Courier System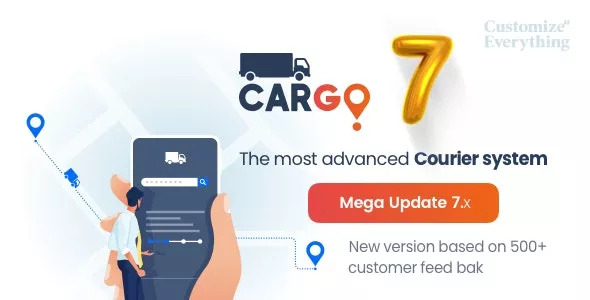 Cargo Pro is software designed for companies that process packages to monitor storage and handling logistics to their final destination and manage employees and drivers so you can track your entire company.
This system is based on OctoberCMS based on Laravel, the advantage of this software is that it is a web-based system that allows you to receive it can be accessed from a PC, tablet or smartphone with an Internet connection, and ready-made web service APIs, so that it can be integrated directly into any mobile application for iOS or Android if you have any programming knowledge.
The customer has the ability to log in and request or track his packages.
Features
SMS Notificaitions: ready to be integrated with your account on clickatell directly to send sms for whatever you needs.
Dynamic Workflow: in every step you can choose which one will receive the notification and what he can do too
Multilingual System: you can add any language you need and have the ability to translate it directly from your dashbaord
Multi Currency: you can add any currency you need directly from your dashbaord
Homepage Builder: Control how your homepage will look like
Multi Themes: Choose one theme from our multiple themes or create your own theme
Blog: use our blog module to add posts about your company and get more visitors directly to your website
alot more…
cargo-pro-7.6.rar
* The referring site you are being redirected to is not controlled by us, we don't host any of the files, this site only contains download links from 3rd party sites by individual users which are freely available on all over the Internet. This material was provided for informational purposes only.
The minimum length of a comment is 30 characters.