Artifism v1.5.0 - AI Content & Image Generator SaaS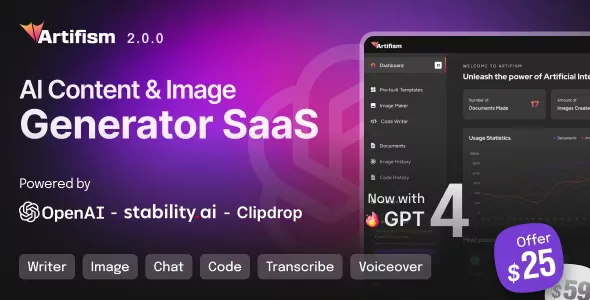 Artifism is an Artificial Intelligence chatbot developed by OpenAI and also the ultimate content generation tool that can help you produce high quality content towards a desired tone, variants, creativity level & language quickly and efficiently. Our AI Application is not only capable of generating a wide range of content types including blog posts, products description, landing page & website copy, LinkedIn profile copy, personal bio, job description, SEO meta title & details, video scripts and much more - it also includes an image maker & code writer sections that allow users to easily create image & writing code by using these modules.
Get Paid Access + Instant Download
Payment is required to download this product with cheap price.
You can save your money up to 90% and 100% virus free files from author.
No waiting! The download will be started after your payment successfully.
* Note: Please do not close this window after purchasing to download this product.
The minimum length of a comment is 30 characters.