Motors v5.4.28 - Car Dealer, Rental & Listing WordPress Theme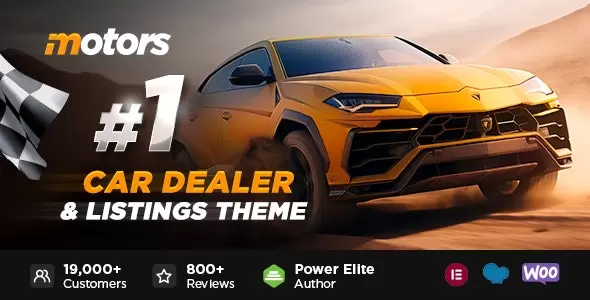 Motors is the best WordPress theme for Car Dealership business. Using Motors you can easily create a modern website with attractive inventory and start promoting your services. This is the perfect theme for Car Dealer, Auto Dealer, Automotive WordPress website and any other automotive dealership business, who sell, buy or lease vehicles via website.
We built several specific automotive website templates to meet those needs:
Car Dealership
Directory & Listings
Electric Car Dealership
Motorcycles Dealership
Boat Dealership
Airplanes Dealership
Construction Vehicles and Equipment Dealership
Car Repair Service
Rent a Car
We found these website styles rise to the top every time, so with Motors, we sought to create the most elegant designs, the fastest loading directories, coded to meet tomorrow's standards and to exceed all of your expectations.
We know you have a work to do, so we took all of the grunt work out of building a website for you. With our Drag and Drop Page builder, everything works in a familiar fashion to using a Word Processing App - just drag and drop elements where you want them and let Motors take care of the rest.
It is the perfect theme for Car Dealer, Auto Dealer, Automotive, Electric Car Dealership, Boat Dealer WordPress, Motorcycle Dealership website, Rent a Car and any other automotive dealership business, who sell, buy, loan or lease vehicles/boats via a website. You can build your unique Classified Listing website with Motors WordPress theme. Classified Listing layout has several additional features like Seller & Dealer registration, Car for Sale submission, XML/CSV inventory import, Dealer Profile with user reviews and much more.
Our enhanced Inventory Manager does all the hard work for you to make your listings irresistible to buyers, so they have no excuse not to make a purchase! Quickly and easily input the relevant information about a vehicle - an overview, photos and videos, technical features and options, location, contact information, WhatsApp chat module, loan calculator and PDF brochure - and Motors classified listing WordPress theme will collate and present your listing in style.
Get Paid Access + Instant Download
Payment is required to download this product with cheap price.
You can save your money up to 90% and 100% virus free files from author.
No waiting! The download will be started after your payment successfully.
* Note: Please do not close this window after purchasing to download this product.
The minimum length of a comment is 30 characters.