TicTic v3.1.3 - Android Media App for Creating and Sharing Short Videos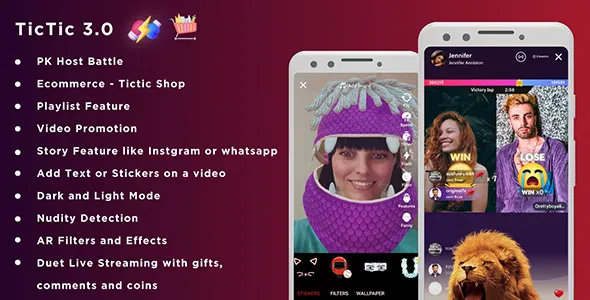 Tiktik - Android App for creating and sharing short videos. The customizable social video application to build your own trending video sharing platform with video dubbing features, various filters & social media integrations & more. Build your unique Tik Tok,Musical.ly, Dubsmash-like Clone Today!
Features 
Login / Signup - Your users can use their phone number, email address or social media accounts for registering themselves with the app. These credentials can be used for logging into the app
Newsfeed - Based on the user's followers & following, the news feed is constantly updated to showcase the latest posts from other users, top viewed posts in the area,  Designed for maximum user engagement rate.
Song Audio Selection - Select your favorite tracks or upload your own from admin panel, for our custom video dubbed post with your own song or audio selection.
Dubbing and Video Selfie - Record custom music-dubbed video selfie posts or record performances – Multiple options to help users become mini internet stars themselves on our customisable Tik Tok clone.                                                .
Video Sharing - Share your dubbed video or media   with other users or on other social channels as well on the TikTok clone customizable app.
View and Like Your Favourite Video - Users can view videos of various users. Like, comment, and share posts also on the customizable TikTok clone app.
Live Streaming - Going live is such a lot easier on our live video streaming solution. Their friends are going to be notified and that they can watch the live stream in real-time on our live video streaming solution.
Multiple Media Attachment Chat Options - Tiktok clone social video dubbing & sharing script is integrated with an in-app chat module with a wide variety of multimedia sharing options. Users can attach images or share videos and also send the voice messages.
Video Discovery - Videos shared by other users can also be searched via hashtags or by specifically typing the video title.
Video Posting - The videos created over this platform can be posted by users along with hashtags, descriptions, etc. Other app users can also be tagged in the videos.
Video Filters - Various available filters can also be applied to the videos before sharing them on the user profiles. The filters can enhance the visual effects of videos and make them look more professional.
Video Comments - Other users can comment on your video and vice versa. This helps in improving video content as users come to know what others feel about their work.
In-app Push notifications - These notifications inform users whenever users follow other users or send a message or do live streaming
Favorite Sounds - Interesting soundtracks can be saved by users in their profiles and used for video creation in the future.
View User Profile - Both profiles and videos of other users can be viewed easily using this app. Users can even like, share, and follow the profiles they find entertaining
Privacy Settings - The privacy settings of users can be changed as per their requirements. The uploaded video can be shared only with himself or for the general public and also if users can do a duet or not.
User Reporting - Report other users or posts for a number of reasons. This helps maintain high content quality standards on your TikTok clone app.
Get Paid Access + Instant Download
Payment is required to download this product with cheap price.
You can save your money up to 90% and 100% virus free files from author.
No waiting! The download will be started after your payment successfully.
* Note: Please do not close this window after purchasing to download this product.
The minimum length of a comment is 30 characters.