Home
/
Scripts
/ Ultimate POS v5.31 - Best ERP, Stock Management, Point of Sale & Invoicing Application
Ultimate POS v5.31 - Best ERP, Stock Management, Point of Sale & Invoicing Application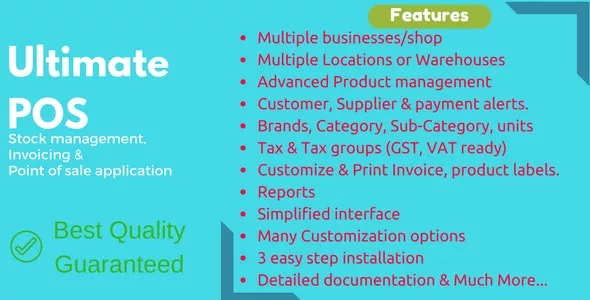 Advanced inventory management, sales and billing application. With this application you can save a lot of time on bookkeeping and inventory. In addition, you will have all the information you need to analyze your business in detail.
Features
CRM module for UltimatePOS v1.0
Digital Product catalogue & Menu module for UltimatePOS v0.6
UltimatePOS to WooCommerce Addon (With SaaS compatible) v3.0
SaaS & Superadmin Module for UltimatePOS - Advance v2.7
Essentials & HRM (Human resource management) Module for UltimatePOS v3.0
Project Management module for UltimatePOS v1.6
API or Connector module for UltimatePOS v1.3
Manufacturing Module for UltimatePOS v2.1
Advance Repair module for UltimatePOS v1.0
Get Paid Access + Instant Download
Payment is required to download this product with cheap price.
You can save your money up to 90% and 100% virus free files from author.
No waiting! The download will be started after your payment successfully.
* Note: Please do not close this window after purchasing to download this product.
The minimum length of a comment is 30 characters.