Open Server 5.4.3 - Local Web Server for Windows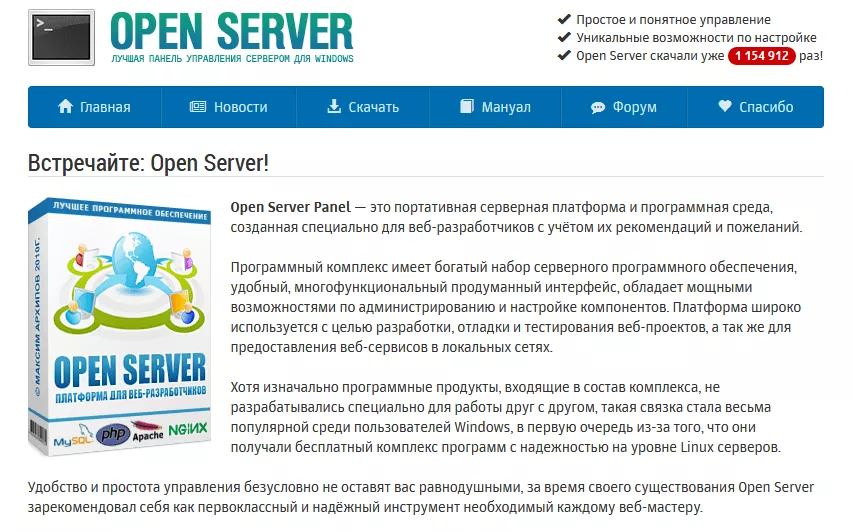 Open Server Panel is a portable server platform and software environment designed specifically for web developers, taking into account their recommendations and wishes. The software complex has a rich set of server software, a convenient, multifunctional well-thought-out interface, and has powerful capabilities for administration and configuration of components. The platform is widely used for the development, debugging and testing of web projects, as well as for the provision of web services on local networks.
What's New
Added new DBMS module: MariaDB 10.6
Added extensions for PHP 8.1: amqp, apcu, igbinary, imagick, mailparse, memcached, mongodb, redis, ssh2, timezonedb, uploadprogress, xdebug, xhprof, yaml
Changes
Minor improvements in the configuration of some modules
At the request of users, access to MySQL / MariaDB / PostgreSQL is now unrestricted by default (Caution! Mandatory configuration of database user rights restrictions is required if your server is accessible from the Internet)
The default MySQL / MariaDB username and password is set to root
PostgreSQL now comes with initialized storage
All components have been updated to the latest versions
Corrections
Fixed bugs in MySQL, PostgreSQL and MongoDB configs
Hrtime extension didn't work in PHP 5.5 and PHP 5.6
IMagick extension didn't work with pdf files in PHP 7.2 / 7.3 / 7.4 / 8.0
open-server-panel-5.4.3.rar
* The referring site you are being redirected to is not controlled by us, we don't host any of the files, this site only contains download links from 3rd party sites by individual users which are freely available on all over the Internet. This material was provided for informational purposes only.
The minimum length of a comment is 30 characters.