Ghost Windows 10 Lite 22H2 - High Performance v2 October 2023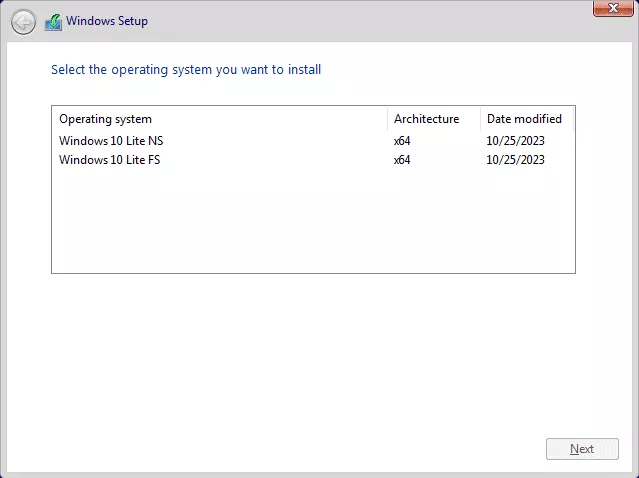 Ghost Win 10 Lite 22H2 được rebuild từ bộ cài Windows 10 X-Lite (19045.3570) Vitality by FBConan.
Chỉnh sửa giao diện về mặc định và bỏ các thông tin cá nhân hoá từ bản lite gốc.
Windows Update, Defender mặc định đã tắt, để bật tính năng sử dụng tool trong C:\Extra.
Bản ghost đã được tối ưu, tinh chỉnh, service,... trước khi backup.
Sau khi cài đặt các bạn có thể vào thư mục C:\Extra để sử dụng các công cụ kích hoạt bản quyền digital và office.
Không cá nhân hóa bất kì thành phần nào của Windows.
Lưu ý:
Nên sử dụng IDM download để đạt tốc độ nhanh nhất.
Sau khi download, hãy check MD5 chính xác sau đó mới thao tác cài đặt bản ghost.
Phiên bản no soft chỉ đi kèm trong file iso. Bản ghost lite này là phiên bản 64 bit.
Tính năng RAM ảo (Virtual Memory) đã tắt, nếu có nhu cầu bạn hãy bật lại.
Trong quá trình sử dụng hãy thực hiện dọn rác, tối ưu, chống phân mảnh với HDD để windows hoạt động tốt nhất.
Nếu gặp vấn đề khi cài đặt hoặc đóng góp ý kiến các bạn hãy để lại ý kiến bên dưới.
FREE DOWNLOAD!
* The referring site you are being redirected to is not controlled by us, we don't host any of the files, this site only contains download links from 3rd party sites by individual users which are freely available on all over the Internet. This material was provided for informational purposes only.
The minimum length of a comment is 30 characters.