WebToNative v6.0 - Advanced Android Webview Application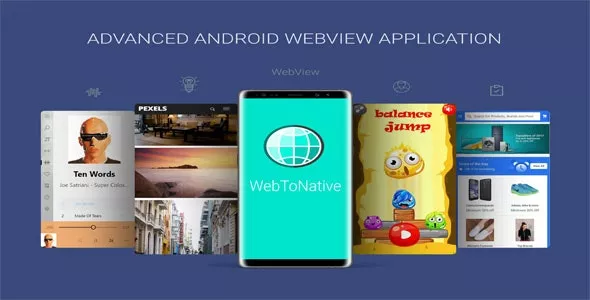 WebToNative is a Native Android Application which wraps the website content into a full pledged Android Application.
WebToNative Android Application has been Integrated with High End Browser Libraries to wrap your website contents into Advanced Native Android Application with many useful inbuild features and services
WebToNative has an integrated high end browser which is used for processing your web script and provides high performance. 
WebToNative Android Application Supports and Integrates well with WooCommerce and Wordpress sites.
This App has integrated browser. Code is clean, consistent, easily configurable and customizable. it does not require any programming skills. We provide excellent and quick support. Compatible with all of mobile web sites.
WebToNative Android Application supports HTML5 games to run smoothy with the help of Advanced Web Rendering Engine integrated into this application.
Also Compatible with Local HTML Files. so the app does not require internet connection.
WebToNative Android Application now supports Push Notification with OneSignal and Google Firebase.
Admob Interstitial Ads has been now implemented in WebToNative Android Application, so you can earn money from showing ads. Implementing Admob Interstitial Ads is optional and can be turn ON/OFF in Code.
WebToNative Android Application now supports Uploading files and Downloading Files in background.
WebToNative Android Application has been now integrated with WEBGL and WEBRTC Advanced Libraries to support High End Graphics and Other Complex functionality.
webtonative-6.0.rar
* The referring site you are being redirected to is not controlled by us, we don't host any of the files, this site only contains download links from 3rd party sites by individual users which are freely available on all over the Internet. This material was provided for informational purposes only.
The minimum length of a comment is 30 characters.