AI Chat GPT OpenAI - AIgency - SAAS and HTML 5 Version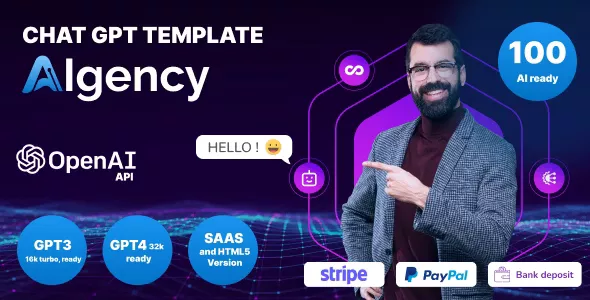 Welcome to AIgency! Our software, built using HTML5, provides access to specialized artificial intelligence in various business areas. Our template offers a range of capabilities, including the creation of intelligent neural responses, continuation of dialogues, code generation, and response to texts. With the ability to customize AIgency according to your specific needs, you can create personalized solutions for your business problems with confidence and effectiveness.
We offer specialized artificial intelligence in essential business areas such as Digital Marketing, Finance, Human Resources, Cybersecurity, Project Management, Software Development, Interface Design, Event Planning, and many other areas.
AIgency is fully customizable, allowing you to add, remove, or delete artificial intelligences from the site and train them with your own prompts and behaviors. This ensures that AIgency is always up to date with the latest business trends and that you can personalize your experience according to your specific needs.
With the ability to personalize artificial intelligence, you can create custom solutions for specific business problems and be sure that you are getting the exact help you need. AIgency is powered by the Chat GTP API, offering a highly advanced chatbot with fast responses. This ensures that you get the maximum benefits and can solve business problems with confidence and effectiveness.
ai-chat-gpt-openai-aigency-11.sept.23.rar
* The referring site you are being redirected to is not controlled by us, we don't host any of the files, this site only contains download links from 3rd party sites by individual users which are freely available on all over the Internet. This material was provided for informational purposes only.
The minimum length of a comment is 30 characters.