Arma 3: Ultimate Edition v2.12.150779 + All DLCs, MULTi14 Repack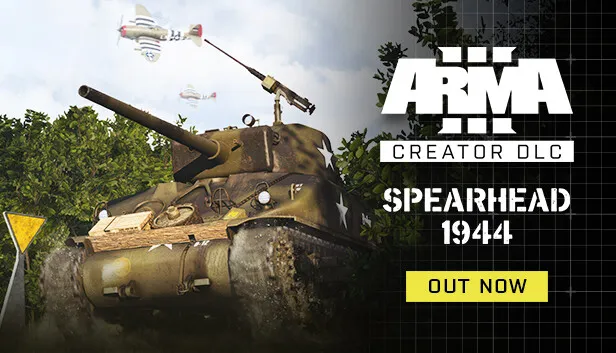 Grab your rifle and prepare to deploy to Normandy where you'll experience World War II combat with the grand scale and intense realism that only the Arma platform can deliver. Spearhead 1944 places you in the boots of the soldiers fighting to break out from a tenuous foothold in the hellish maze of the bocage to liberate occupied Normandy. Play your way, with a wide array of iconic weapons and vehicles. Join the fight for liberation, or hold your ground across a new 150 km2 representation of real-world terrain based on inland Normandy. Command a tank, light up your flamethrower, dial in your sniper scope, or grab your medical supplies. Dive into a sprawling new co-op campaign for up to 24 players inspired by Operation Cobra. Or take the fight to the enemy with multiplayer game modes, a French Resistance-focused singleplayer scenario and US and German faction showcases. Offering unparalleled player freedom and new layers of strategic and tactical gameplay, Spearhead 1944 builds on the successful Arma 3 military sandbox formula to render World War II combat for players to experience in solo, with friends in a group, or together with the global Arma community.
Title : Arma 3 Creator DLC: Spearhead 1944
Genre : Action, Simulation, Strategy
Developer : Heavy Ordnance Works
Publisher : Bohemia Interactive
Release Date : 25 Jul, 2023
Requirements
OS: Windows 7 SP1 (64bit)
Processor: Intel Dual-Core 2.4 GHz or AMD Dual-Core Athlon 2.5 GHz
Memory: 4 GB RAM
Graphics: NVIDIA GeForce 9800GT / AMD Radeon HD 5670 / Intel HD Graphics 4000 with 512 MB VRAM
DirectX®: 10
Hard Drive: 75 GB free space
Audio: DirectX®-compatible on-board
Arma 3 [FitGirl Repack].rar
* The referring site you are being redirected to is not controlled by us, we don't host any of the files, this site only contains download links from 3rd party sites by individual users which are freely available on all over the Internet. This material was provided for informational purposes only.
The minimum length of a comment is 30 characters.